Instant cut to size prices
Free delivery on all orders over £150
30+ Years experience in the plastics industry
Sustainable Plastics - Trends in Food and Drink Display
Published on: 03/01/2023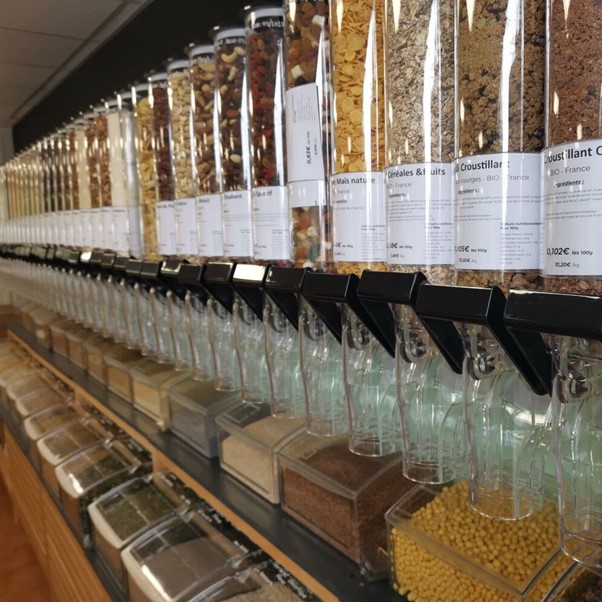 Across the food and drink industry, plastics and other packaging materials are used to protect products throughout the supply chain. Their use ensures that products reach consumers in a safe and optimal condition. Plastic packaging also plays a big role in preventing food waste, thereby making a vital contribution towards the sustainability of the supply chain.
Plastics are also widely used in food and drink display applications in supermarkets, shops, restaurants, cafés and bars. These include food cabinet screens, food counter sneeze screens, patisserie display cabinets and confectionery stands (all made from clear Perspex acrylic) and also things like bar mirrors (made from acrylic mirror sheeting).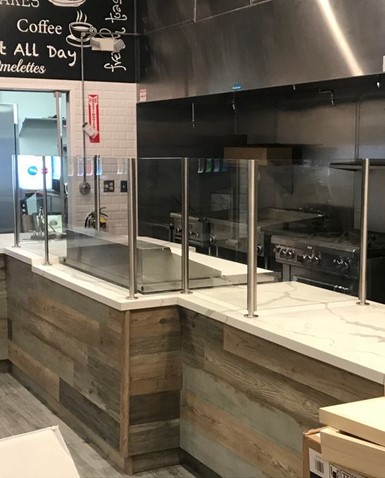 There are also many applications involving "technical plastics" in the plant and machinery used for meat, fish and poultry processing. These plastics are used to speed up production and enhance safety in the manufacture of dairy produce and the production of baked goods and confectionery. Plastics are used to make things like gears, bearing bushes and other machine components. Some of these technical plastics will come into direct contact with foodstuffs, particularly in filling, mixing and portioning systems, so strict rules have to be observed around their use.
The food contact material regulations in the UK are extensive. Read more about the regulations here.
Environmental Concerns around Single-Use Plastics
Environmentalists, consumers and Governments have considerable concerns about some types of plastic, particularly single-use and hard-to-recycle plastics. These pose a significant challenge for the entire food and drink industry. 
As society demands that more is done to protect the environment, the food industry is responding by making ever greater use of paper and cardboard to package products and by reducing the volume of packaging. Customers are also being encouraged to reuse packaging, and, increasingly, the food industry is making it easier for them to do so. There is also a trend towards much greater use of recycled plastics in food packaging.
Consumers Want Fresher, Healthier Food
Consumers today are much more focussed on eating healthily than ever before. They want fresh food and they expect it to be attractively displayed as well as sustainably packaged. For food retailers this means not only expanding their ranges of fresh and healthy foods, but it also requires them to display their products in a more eco-friendly way. The UK Government is encouraging supermarkets to introduce aisles which are entirely free from plastic packaging.
Perspex is extensively used in the production of food display units. The good news here is that Perspex can be recycled. At the moment, unfortunately, very few of these units are made using recycled Perspex, but change is on the way.
For more details about recycled Perspex, please read our blog here.
Eco-Friendly Materials
With considerable investment now going into finding new, eco-friendly, sustainable materials, we're likely to see more food packaging made from wood and cellulose, and from plant-based materials such as brown seaweed, sugarcane and sun-dried areca palm leaves.
And when it comes to food and drink displays, there are advances here too. Products in widespread use in supermarkets and across the sector such as food display cabinets and screens, counter-top sneeze screens and confectionery stands can all be made using recycled plastics.
Increasingly we expect participants in the food and drink industry to move towards specifying that recycled plastics are used when they order these types of products.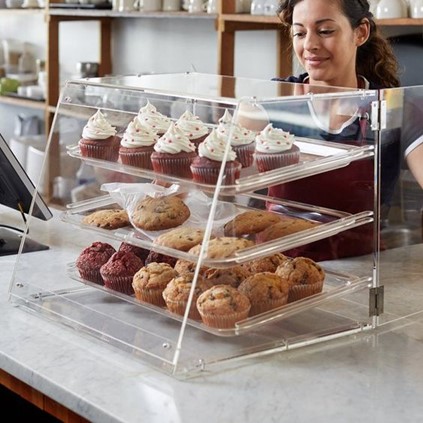 Sustainable Plastics for the Food and Drink Industry
As a responsible company, Simply Plastics is supporting the UK's food and drink industry as it seeks to improve its sustainability credentials. Part of our mission to support increased sustainability is to supply environmentally friendly plastics. The PERSPEX®re range of 100% recycled cast acrylic has recently been launched and we're pleased to stock it. For any supermarket or food service outlet looking to replace its food cabinet screens, sneeze screens or retail display units, this sustainable plastic material is absolutely perfect.
We also supply the following products which are partially recycled:
We're also proud to say that over 80% of the materials we supply are 100% recyclable.