Instant cut to size prices
Free delivery on all orders over £150
30+ Years experience in the plastics industry
The ultimate guide to Polycarbonate
Published on: 11/10/2022

Polycarbonate is an extremely versatile type of plastic that can be used in a wide variety of applications. More specifically, in terms of composition, polycarbonates are a group of thermoplastic polymers that contain carbonate groups within their chemical structures. Polycarbonate is a strong material, yet because it's comparatively lightweight, it's straightforward to transport and install. Naturally transparent, polycarbonate is also available in a range of colours. It is easily worked, moulded, and thermoformed.
The history of Polycarbonate
Polycarbonates were first discovered in 1898 by Alfred Einhom, a German scientist working at the University of Munich, however after 30 years' laboratory research, this class of materials was abandoned without commercialization. Researched resumed in 1953, when Hermann Schnell at Bayer in Germany patented the first linear polycarbonate and subsequently the brand name "Makrolon" was registered later in 1955. Up until 1970 Polycarbonate was produced with a brownish tint, however after significant improvements in the manufacturing process it became possible to produce glass-clear polycarbonate which led to far greater commercial demand for the material. 
The properties of Polycarbonate

Polycarbonate's many positive properties are the reason why it's so often chosen over other forms of plastic sheeting. First and foremost, polycarbonate is tough and highly resistant to impact. Polycarbonate is up to 200 times stronger than glass, and is considered to be almost unbreakable, which makes it a much safer and more secure option for high-traffic areas. It is also particularly suitable in both commercial and residential glazing applications. In addition, polycarbonate's durability translates into excellent longevity, which in turn makes it a great long-term investment.
Lightweight and malleable
Despite its strength, polycarbonate is lightweight, so it's cost-effective to ship, easy to handle, and needs less support than heavier alternatives to hold it in place. These properties illustrate why polycarbonate is an excellent option for greenhouses, secondary glazing and a variety of other glazing applications.
Another big positive of polycarbonate is that it's one of the easiest types of plastic sheet to process – unlike many other plastics, polycarbonate can be easily cut, drilled, and formed without cracking or breaking. It can be shaped or bent at room temperature, however typically in a commercial environment it would be cold formed/bent and then heated to ensure that the material doesn't spring back to its original form. These properties make Polycarbonate suitable for a wide variety of fabrication processes and applications.
Clarity and insulation
Polycarbonate offers superb long-lasting clarity and excellent light transmission that's comparable to traditional glass. However, while it lets the light through, it keeps the elements out. That's because polycarbonate is an effective thermal insulator. It retains more heat than both traditional glass and its acrylic counterpart – a quality that makes it particularly suited for use within secondary glazing, home extensions and conservatories.
Polycarbonate's K- and U-values are a useful indication of its insulation properties. A material's U-value measures heat loss through a given thickness of a building, roof, wall or floor. In general terms, the lower the U-value, the better the material in question is as a heat insulator. A material's K-value refers to its ability to conduct heat. A low K-value is advantageous for insulating materials, as this means heat energy cannot easily pass through. As the table below illustrates, polycarbonate out-performs glass in both regards. Traditional single pane glass has an average K value of 0.96 whereas our Polycarbonate sheets have a K value of 0.21 which demonstrates why Polycarbonate provides superior insulation to traditional glass, in addition to being cheaper and easier to install and maintain.
UV and fire resistance
Yet another advantageous property of polycarbonate is its UV-resistance. In addition to withstanding all sorts of harsh weather – even snow and heavy rain – polycarbonate filters out a large proportion of harmful UV rays that glass allows through. This is good news for greenhouses, as it prevents plants from UV damage. Like most UV polycarbonate material, our Palsun Solid Polycarbonate Sheets are UV-protected on one side, which significantly improves long-term weatherability. A comparison of the UV protection offered by PALSUN and that offered by sunscreen cream 15 is depicted in the graph below.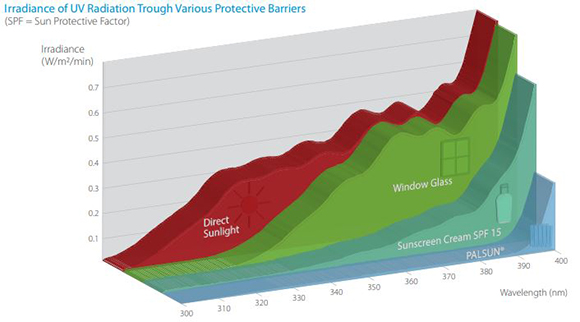 100% recyclable
In contrast to single-use plastics which contribute significantly to plastic waste, our Palsun Polycarbonate portfolio is 100% recyclable, to help create a more sustainable environment. Furthermore, each sheet contains up to 30% recycled content.
What can polycarbonate be used for?
The multipurpose properties of polycarbonate mean it is a highly versatile material that can be used in many different ways. It's most commonly used for roofing and glazing (both primary and secondary), and especially for greenhouses, conservatories and orangeries. More recently, during the COVID epidemic, polycarbonate was also used for sneeze screens and safety guards. Other typical applications include:
Sky lights
Construction
Automotive and aircraft components
Security components
Signage
Vending machines
Street furniture
Machine guards
Lighting 
Roof domes
Bicycle racks
The different types of polycarbonate
We offer four main types of polycarbonate – solid sheet, prismatic, multi-wall/twin-wall and Georgian wire.
As its name suggests, solid clear polycarbonate sheet looks just like glass but, is stronger and lighter. It offers 89% light transmission and is available in a range of thicknesses, from 1mm to 12mm. We also stock Opal Polycarbonate which is available in 2mm, 3mm and 5mm gauges.  The maximum sheet size available is 3050mm x 2050mm.
Prismatic polycarbonate sheet incorporates a textured pattern on one side, which is optimised for both light transmission and diffusion, making it a popular choice for lighting applications. Its aesthetic appeal also works well within interior and exterior decoration, and exhibition displays. The maximum sheet size is 2500mm x 1250mm and it is available in a 3mm thickness.
Multi-wall polycarbonate sheet features multiple layers which form a honeycomb-like structure. It offers superb thermal insulation (and relatively good sound insulation), making it a popular choice for conservatories, greenhouses, carports, and lean-to extensions. Twin-wall polycarbonate is similar to multi-wall, except it has just two layers instead of several. It is a popular choice for smaller projects such as cold frames and cloches. Both products are available in clear, opal and bronze.
Frequently asked Questions
- What is the lifespan of Polycarbonate?
With proper care, polycarbonate should last at least a decade. The polycarbonate we supply is guaranteed against discolouration for 10 years.
- Which is better: polycarbonate or acrylic?
It depends on the intended usage. These materials share many similar properties. Polycarbonate is much stronger and more flexible than acrylic – but it's usually more expensive. In terms of appearance, acrylic is glossier and marginally more transparent. Polycarbonate also scratches easier than acrylic.
- What is the best thickness for polycarbonate?
Again, it all depends on the intended application. For example, thicker sheets (25mm, 32mm and 35mm) of twin/multi wall are the best option for external roofing applications. For greenhouses, cold frames and secondary glazing thicknesses of 3mm, 4mm and 5mm are the most popular choices.
- Does polycarbonate discolour?
Because they are resistant to temperature extremes and UV light, polycarbonate panels should not fade or discolour for many years. Cheaper versions may yellow over time.
- How do you clean polycarbonate?
Polycarbonate should be cleaned gently, with warm water, a few drops of liquid detergent, and a microfibre cloth.
- What are the disadvantages of polycarbonate?
There really aren't many! It can scratch if it isn't handled carefully, and it can't be laser cut.
Why choose us for your polycarbonate needs?
As one of the largest polycarbonate suppliers in the country and over 30 years' experience working in the plastics industry – we have the material options and the know-how to fulfil your requirements. We have a proven ability to offer a wide range of competitive solutions for both businesses and individuals. Contact us here for more information and expert advice.