Instant cut to size prices
Free delivery on all orders over £150
30+ Years experience in the plastics industry
What is Secondary Glazing? Ultimate Buyers Q&A
Published on: 18/10/2023
Secondary glazing is a game-changer when it comes to enhancing your home's temperature comfort levels and energy efficiency. If you're looking to improve thermal insulation, reduce noise and control condensation in your home then secondary glazing is a great solution. We've detailed all the essential information to help you with your secondary glazing project below in our ultimate buyers Q&A.
What is Secondary Glazing and how does it work?
A supplementary window installation product, secondary glazing is a popular way to add an extra layer to the interior side of an existing window. It works by trapping a layer of air between the existing window and the secondary pane. This air acts as an insulator, reducing heat transfer and noise transmission. While glass can be used for secondary glazing, acrylic and polycarbonate offer many advantages over glass, in terms of cost, functionality, ease of DIY fitting, and safety.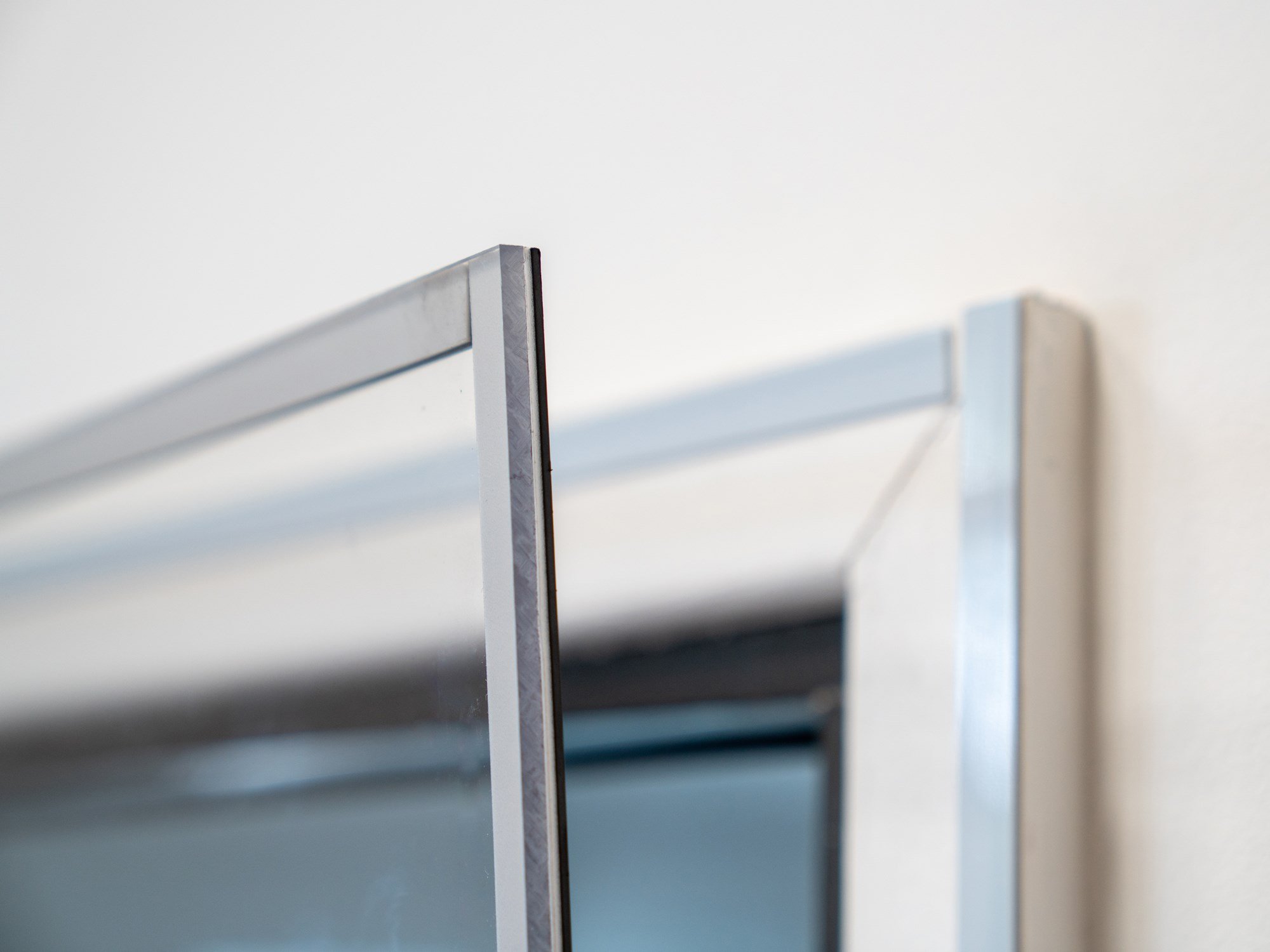 Polycarbonate Secondary Glazing
Why Choose Secondary Glazing for your home?
One of the key benefits of secondary glazing is that the fitting is a fast and simple DIY process, meaning you save the cost and disruption associated with professionally installed double glazing or secondary glazing panels. You simply attach the panels of acrylic or polycarbonate secondary glazing to your existing windows or window frames using magnetic adhesive tape, it really is that simple and quick. There are several other benefits of choosing secondary glazing for your home, including:
Improved Thermal Efficiency: Secondary glazing helps reduce heat loss, keeping your home warmer and potentially lowering your energy bills. According to the UK's National Energy Foundation, secondary glazing can cut heat loss through windows by up to 65%.
Noise Reduction: Secondary glazing can significantly reduce outside noise from outside by up to around 40%-80%, making your home a quieter, more peaceful place.
Preservation of Historic Features: For older homes or listed buildings with unique windows, secondary glazing allows you to retain the original appearance while adding modern benefits.
Which materials are best for Secondary Glazing?
We supply acrylic secondary glazing and polycarbonate secondary glazing options. Both are cost-effective, offer excellent optical clarity, and are much stronger and less prone to damage than their traditional glass counterparts.
Acrylic sheets have up to 20 times the impact resistance of glass, and Polycarbonate is even stronger. Both materials are excellent at letting the light through and keeping the elements out. Polycarbonate retains slightly more heat than acrylic, although this is reflected in the comparative pricing.
When it comes to choosing your secondary glazing material it's important to understand K, U and R values:
K-value refers to the ability of a material to conduct heat. A low K-value is advantageous for insulating materials, as this means heat energy cannot easily pass through.
R-value indicates a material's ability to resist heat flow through a given thickness. Materials with higher R-values resist heat transfer well, and are more suitable for insulation purposes.
The U-value measures the heat loss rate through a given thickness of a building roof, wall or floor. Typically, the lower the U-value, the better the material in question is as a heat insulator.
Understanding these values can be very useful in terms of selecting the best materials for secondary glazing. For example, traditional single pane glass has an average K value of 0.96 whereas our Acrylic and Polycarbonate sheets have a K value between 0.19 and 0.21 which showcases why these materials provide superior insulation, in addition to being lower in cost and easier to install.
As one of the UK's leading suppliers of acrylic and polycarbonate self-fit secondary glazing, we are able to supply both acrylic and polycarbonate sheets in standard sizes, or we can cut them to your exact measurements. We also supply secondary glazing magnetic tape, providing everything you need to install secondary glazing in your home without the added expense of a tradesperson.
How do I install Secondary Glazing?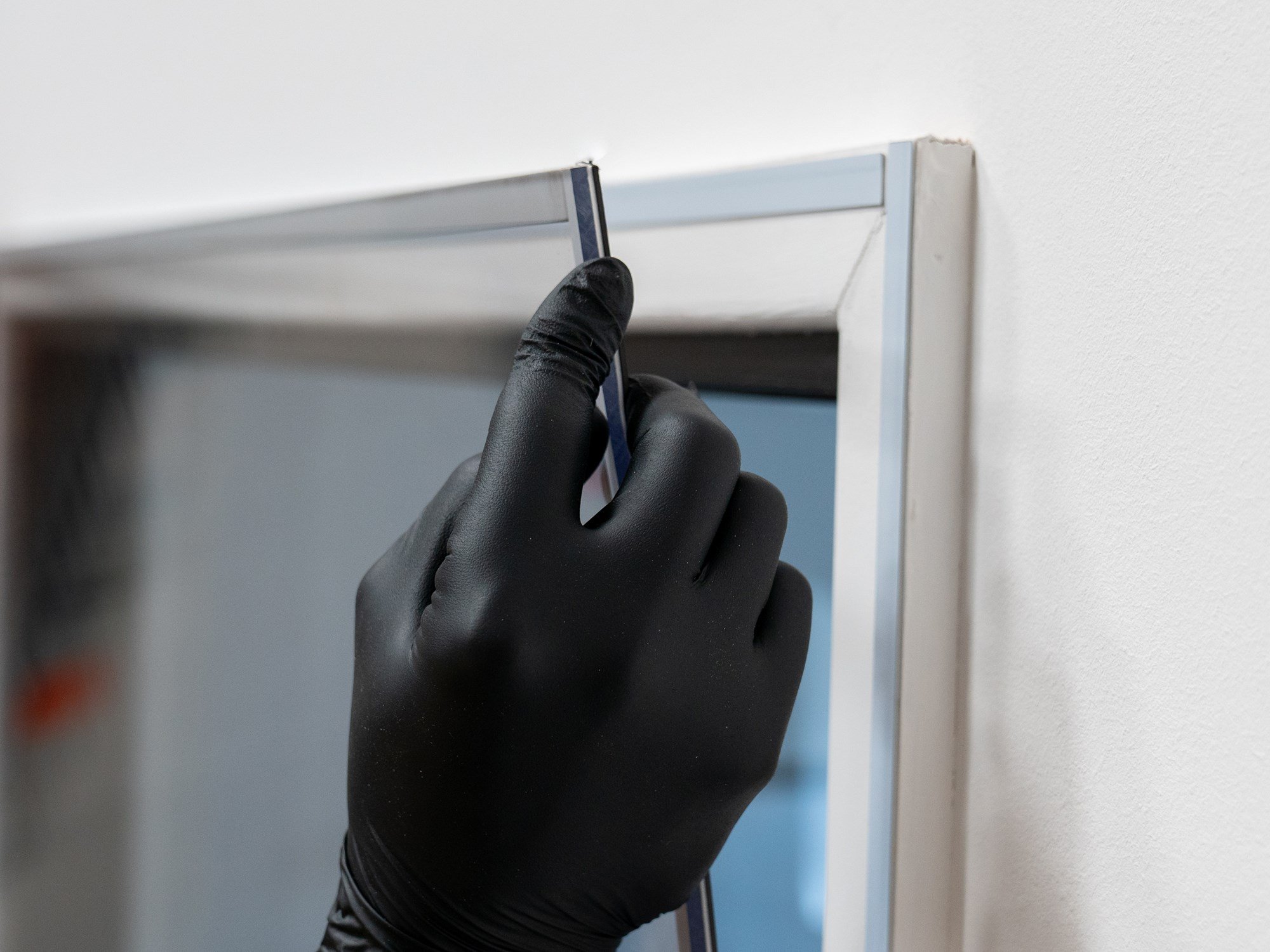 Polycarbonate Secondary Glazing being installed
Fitting secondary glazing is a fast and simple DIY process.
You simply attach the polycarbonate panels to your existing windows or window frames using a magnetic adhesive tape kit. The kit has two parts, a steel tape which is applied directly to your window or window frame, and a magnetic tape which is applied to the clear polycarbonate panel. Alternatively, you can choose to have holes drilled in the panel, however you will need to ensure that a foam tape is also fitted to all edges of the panel to ensure there are no gaps that allow the heat to escape.
Simply Plastics happy customer, John Brewer, shares his thoughts on how easy it was to install secondary glazing and the impact it has had in his home;
"This was my second order for secondary glazing. The first order was perfect and I therefore ordered more for the remaining windows in the house. The product on both occasions was delivered in perfect condition and on time. The glazing was easy to install and has made a huge difference to keeping the house warm and reducing heating costs."
Is Secondary Glazing suitable for my home?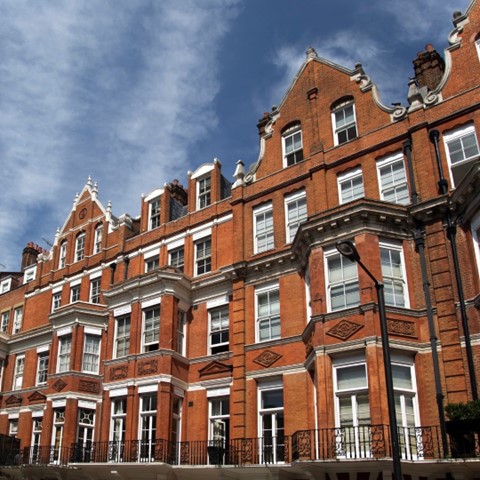 Secondary Glazing is an excellent choice for preserving the original windows of period properties
Secondary glazing is a versatile solution that can work in various settings:
Historic Properties: It's an excellent choice for preserving the original windows of period properties while improving energy efficiency and comfort.
Noise-Prone Areas: If you live near a busy road, airport, or any noisy environment, secondary glazing can significantly reduce unwanted noise.
Energy Efficiency: Secondary glazing is a cost-effective way to improve energy efficiency, especially if you have single-glazed windows.
Listed Buildings: Many listed buildings require strict adherence to preservation guidelines, making secondary glazing an ideal solution for improving energy efficiency while respecting heritage.
Because secondary glazing is so cost-effective compared to traditional double or triple glazing, it's a great option for rental properties and holiday lets. Secondary glazing can be used across your home, but it's especially ideal for colder rooms with several outside walls. Garden rooms, extensions, annexes and external workshops can also benefit greatly from the extra heat retention that secondary glazing can achieve.
Simply Plastics happy customer, Richard Mair, shared his experience with using our acrylic panels for his secondary glazing projects:
"Secondary double glazing acrylic panels, together with magnetic fixing tape, arrived very well wrapped and protected. Very easy to fit and have already noticed difference in temperature and reduced condensation on our 1905 cottage windows. Very pleased and I am about to order additional secondary double glazing and some polycarb replacements for the greenhouse."
Does Secondary Glazing add value to a house?
For older homes or buildings with unique windows, secondary glazing allows you to retain the original appearance while adding modern benefits, ensuring you don't lower the value of your home by stripping original features.
In homes with single glazing, adding secondary glazing will improve insulation and reduce noise helping to add value and make your home more appealing to prospective buyers.
Is Secondary glazing low maintenance?
Secondary glazing is low maintenance and doesn't cause the same level of disruption as fitting replacement primary double or triple glazed windows, and can last for many years. Regular cleaning using the right products, such as Vuplex Plastic cleaner, and following manufacturers guidelines will help keep your secondary glazing in prime condition. Light scratches can generaly be polished out using Unipol Acrylic/Perspex Polish & Restoration Kit.
Why choose Simply Plastics for Secondary Glazing material?
Secondary glazing is a valuable addition to any home or building, offering benefits like improved insulation, noise reduction, and enhanced security. We are one of the UK's leading suppliers of plastic materials and products, with over 30 years' experience in the industry, making us a great choice if you're considering acrylic or polycarbonate secondary glazing for your property. As our Trust Pilot Reviews demonstrate, we pride ourselves not just on meeting our customers' requirements – but on exceeding their expectations.
Ordering secondary glazing panels is easy, simply measure up and order the exact sizes required ready for fitting. Ordering cut to size is not only convenient but reduces waste material keeping costs down.
If you need our help or advice on any of your upcoming secondary glazing projects please get in touch.
Once your order is dispatched you will be notified by email. This will include your tracking information and courier details.
Delivery is available to the UK and throughout Europe.
Yes. We offer an express delivery service which aims to deliver all orders in 1-3 working days. Orders are delivered by a recognised courier company and may require a signature on delivery.
The magnetic adhesive tape needed to complete your secondary glazing must be purchased separately, see (see Magnetic & Steel Tape).