Instant cut to size prices
Free delivery on all orders over £150
30+ Years experience in the plastics industry
A guide to selecting and fitting acrylic shed windows
Published on: 25/03/2022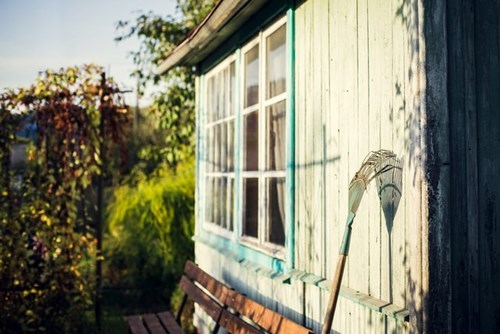 When glass is used for shed windows, many problems can occur. The material is incredibly fragile, meaning you can expect broken panes, discolouration or a decrease in transparency over time.
Fortunately, replacing shed windows is quick and easy (and a great alternative to replacing the entire shed altogether). Here's all the information you'll need on shed windows, from how thick they should be to the best materials for the job. 
The Best Materials To Use For Shed Windows
While glass has been a popular window material of choice for many years, more and more people are opting for materials that are shatterproof, such as acrylic and polycarbonate.
There's a reason why these plastic materials have gained so much popularity in recent years – a sheet of Perspex, for instance, provides excellent levels of optical clarity. Plastic sheets can also be polished to a smooth finish, with both acrylic and polycarbonate offering brilliant levels of UV protection. 
One of the main reasons why so many people are opting for plastic windows instead of glass is because of their high levels of resistance. While acrylic has up to 20 times the impact resistance compared with glass, polycarbonate has over 200 times the impact resistance, with both offering a high level of workable strength before breaking. 
Glass is notoriously dangerous when broken, shattering into multiple sharp pieces when struck. However, plastic sheets are considered to be safer as they break down into larger pieces that are less hazardous. Polycarbonate, in particular, is available in both rigid and flexible grades, so you can pick the grade that best suits the windows you're wanting to fit and what they'll be used for. 
What Thickness Should I Purchase? 
If you're replacing the windows that are already in your shed, it's a good idea to measure their thickness so you can then match the exact measurements. However, if you're starting from scratch or the glass windows have completely shattered, the general thickness for shed windows when using a material such as polycarbonate should be a minimum of 4mm, or 3mm for acrylic.
Be aware that if the window required is particularly large, you may need to increase the thickness of the pane to ensure it provides adequate strength and stability. 
How To Replace Your Shed Windows 
Unless it's a large-scale project that requires an expert's skills, it's usually simple to replace shed windows yourself. Here are a few easy steps to help you with the process: 
Firstly, you'll need to ensure you have the right tools for the job. These are fairly simple pieces of equipment and include:
Heavy-duty gloves
Putty knife
Tape measure
Blade (a razor blade will be fine)
Adhesive silicone sealant
Glazing points
Safety goggles or safety glasses
You may also want to ensure you have material to protect the floor and surrounding work areas, such as old newspapers or dust sheets. 
Next, using your tape measure, you'll need to measure the dimensions of the window frame to ensure you get the correct sized plastic sheeting. If the existing glass window is broken, this needs to be fully removed first for practicality and safety.
Wearing your gloves and goggles, carefully pull and dislodge the shards of glass from the frame to ensure all are removed and sweep the surrounding area of any broken pieces. 
Using your putty knife, loosen all the old putty and remove it to leave a clean surface. Here's where you may need to use your blade to shave off any stubborn fragments of putty still left behind.
Next, remove the old glazing points so that the entire surface is smooth, clean and even for your new pane to be fitted. Then you'll need to apply the adhesive silicone sealant evenly around the edge of the frame, ensuring that it is smooth and uniform the entire way round. 
Gently, but firmly, press the new pane into the sealant, while using the glazing points to ensure the pane is fitted accurately into the frame. Though you may need more if you're working with a particularly large pane, 2-3 glazing points on each side of the frame will generally be enough.>
You then need to apply an even layer of adhesive sealant all along the frame and outer edge using the putty knife blade, to help protect the window and frame against harsher weather conditions. Finally, remove any remaining debris from the area and allow the sealant to fully dry before touching or using the window.