Instant cut to size prices
Free delivery on all orders over £150
30+ Years experience in the plastics industry
Creative upcycling ideas using Perspex
Published on: 29/11/2022
Are you looking for inspiration to kick start some new upcycling projects at home? Do you scour antique shops and boot fairs for second hand/vintage furniture to upcycle and sell on? If so, we have some ideas for you on how to use Perspex creatively in your upcycling projects. Giving new life to old, cherished or vintage items in a creative way can be very satisfying.
Perspex is an incredibly versatile material. It's lightweight, strong and easy to cut into bespoke shapes and sizes. All of which makes it a fantastic material to work with. There are so many ways it can be used in home upcycling projects to breathe new life into old, unloved or vintage items and make them usable once again.
And don't forget that here at Simply Plastics we offer a custom cutting service to help you achieve your upcycling dreams.
Dining tables
Have you ever found yourself gazing wistfully at a beautiful vintage door at an antiques market, idly wondering what you could do with it? Well, an idea we really like is repurposing vintage doors and turning them into dining-tables (or coffee tables) simply by adding legs and a Perspex top.
Here's an example where a sheet of orange Perspex and two sets of wooden legs have turned an old door into a practical, wipeable dining table which would look good in any home.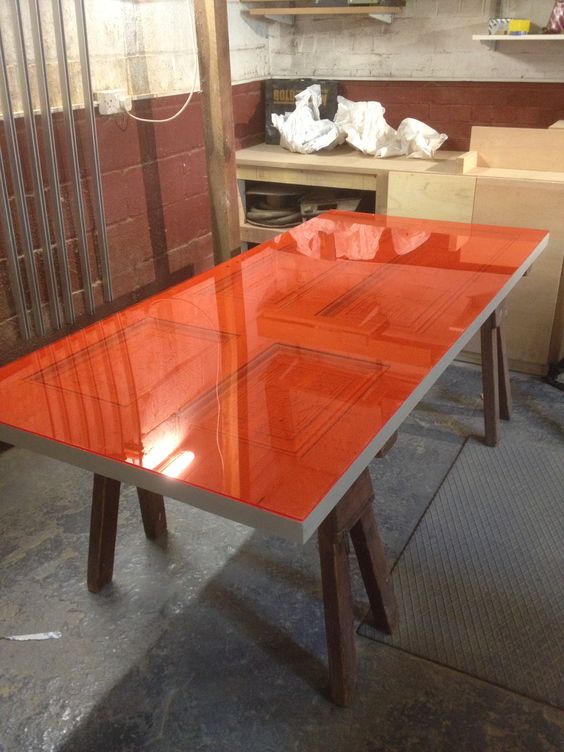 Coffee tables
By adding a Perspex top and legs you can easily upcycle an old door and give it new life as a coffee table or a low table as well.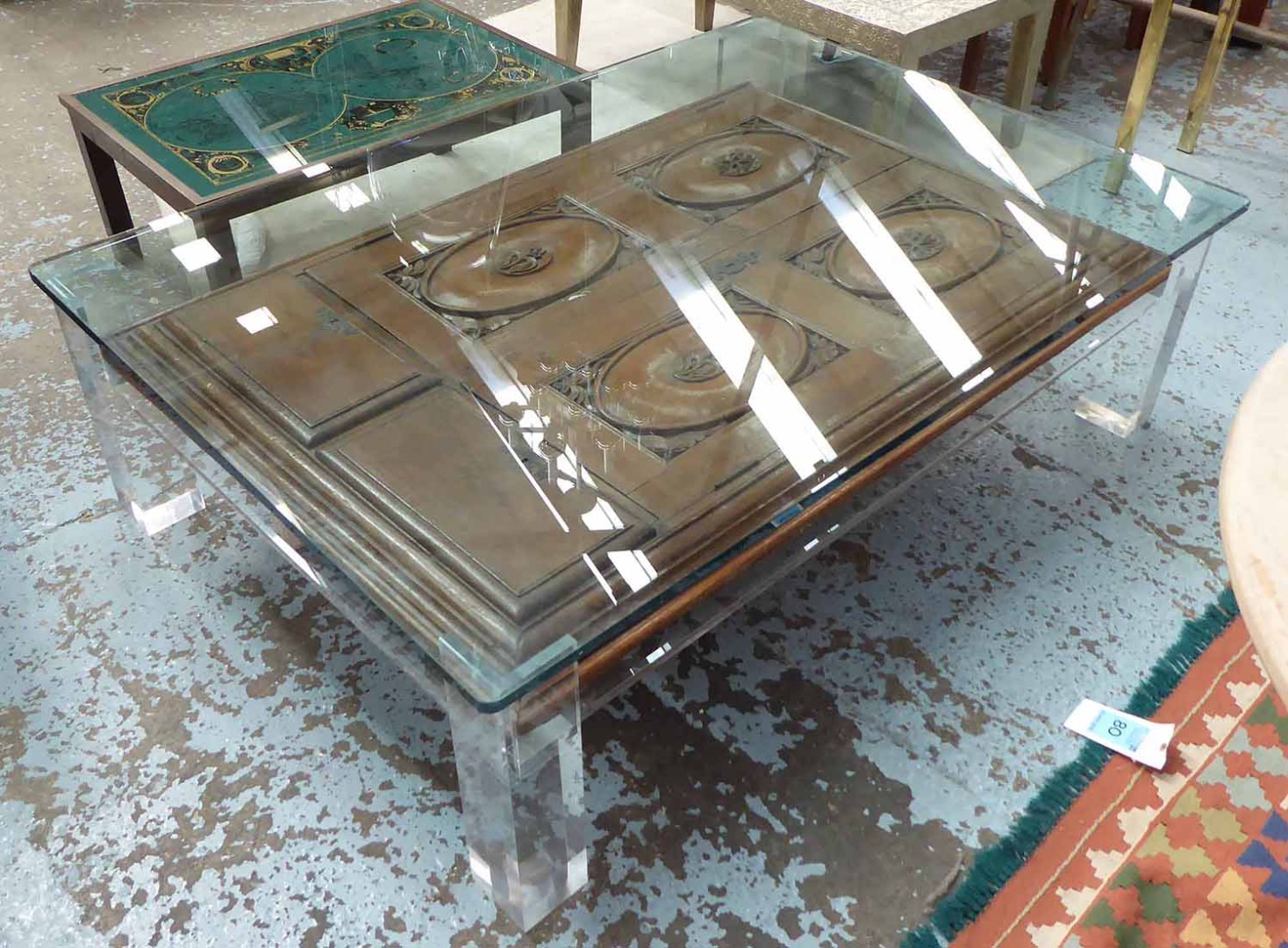 Perspex top and legs covering old panelled wooden door. Image courtesy of LotsRoad.
If you add a pair of hairpin legs and an openable Perspex top, you can easily upcycle old wine crates and give them new life as coffee tables or side tables.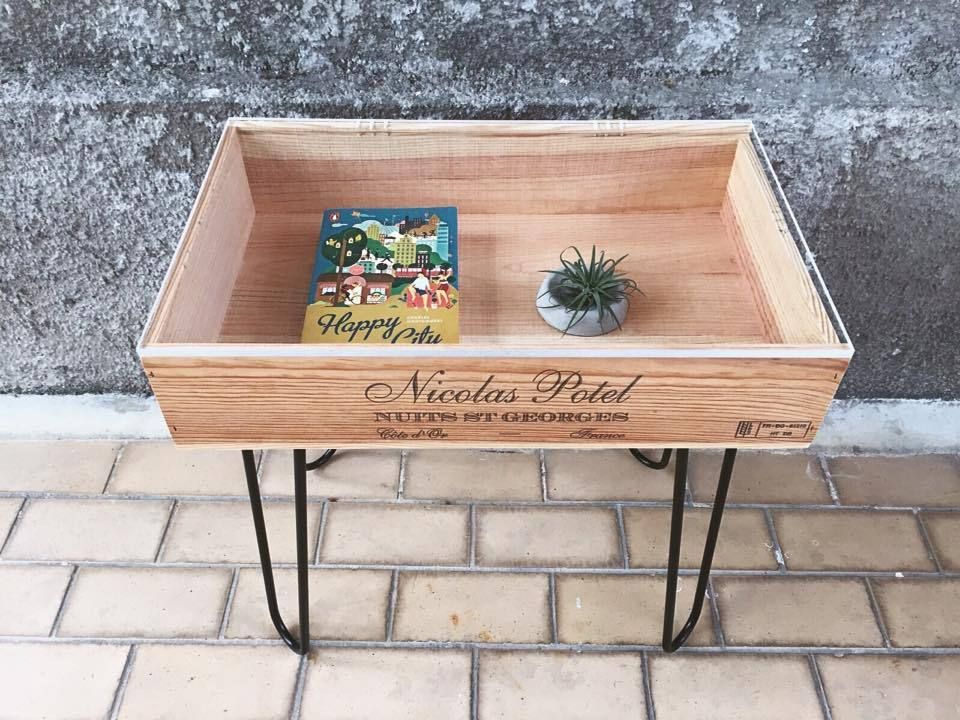 An old wine crate transformed into an interesting coffee table - image courtesy of Pinterest.
Photo Tables
Another lovely idea for an upcycling project is to create a photo table or console – a montage of cherished old photos covered with a Perspex top. But you don't have to limit yourself to photos – try making a table top made up of album covers, post cards, beer mats, postage stamps or even Lego.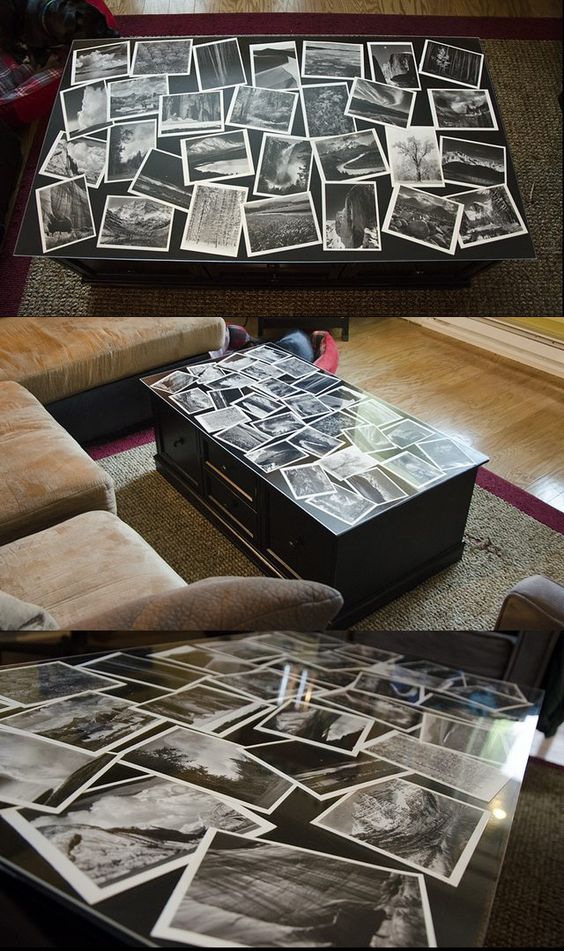 A postcard coffee table - image courtesy of Imgur.com
Other Furniture
Old furniture offers so many possibilities. The fabulous upcycled piece below was made by furniture artist and designer Chloe Kempster using day glo neon Perspex. For extra visual impact, it also includes LED lighting!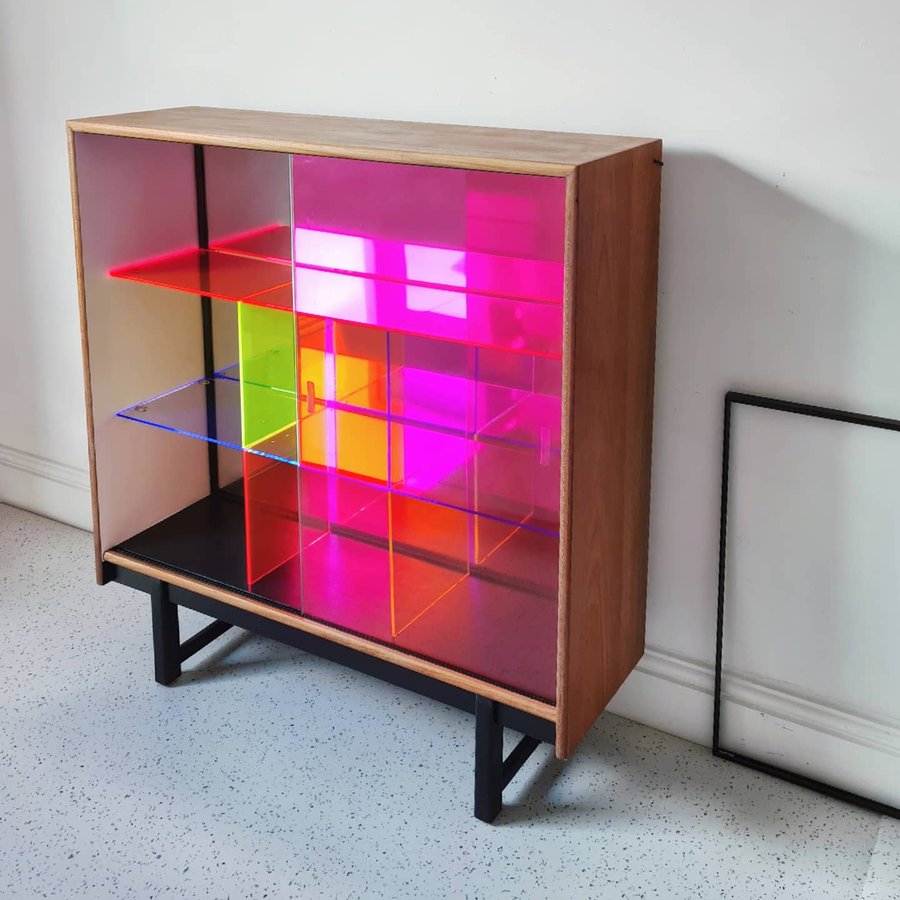 Upcycled mid-century furniture with day glo neon Perspex. Image courtesy of chloekempster.com
Lighting
Perspex is a great material to use in upcycled lighting projects too. Shown below is a Perspex-fronted wine box. The front has been stamped with a bee design using embossing gold glitter and there are battery-powered twinkle lights inside. This would be a warm and inviting piece to place in the corner of a room or perhaps in a hallway.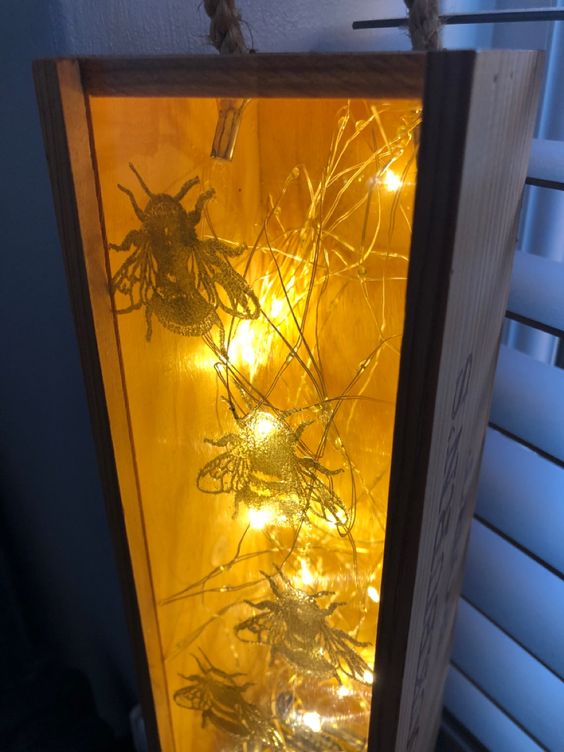 An upcycled wine box with a Perspex front makes for great creative lighting. Image courtesy of Pinterest.
Wall Hanging Projects
If, perhaps, you have a painting, a screen print, an antique wall hanging or a tapestry you'd like to display, Perspex is a brilliant material to use, because it has high levels of UV resistance. You can display these objects attractively and at the same time protect them from damage and the effects of prolonged exposure to light. Perspex box frames (see below) are a great way to display and protect almost any type of wall hanging item.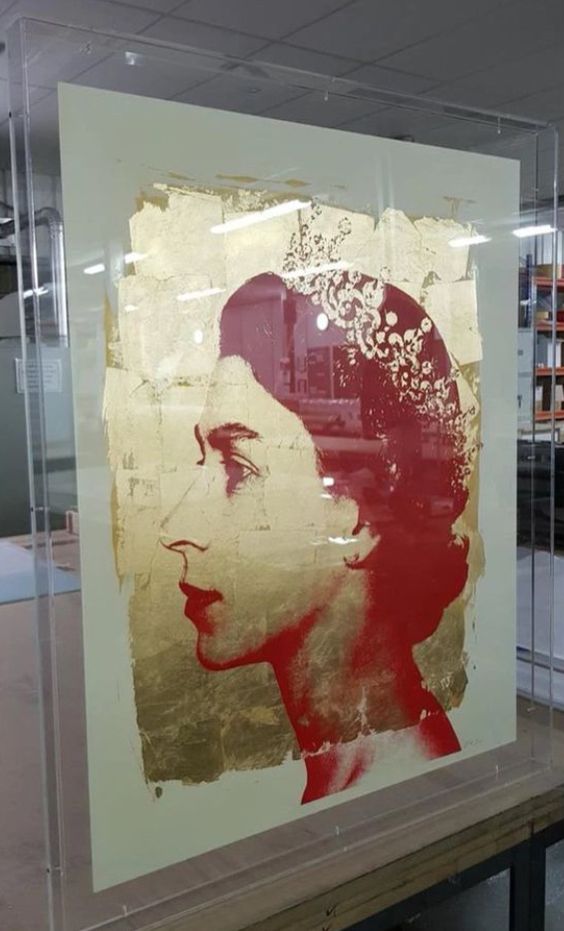 Bespoke gold leaf screen print of Queen Elizabeth II in a clear Perspex box frame. Image courtesy of Pinterest.
Or how about making your own wall hanging by taking an old curtain pole and cutting some coloured Perspex pieces to hang from it? A really easy way to add colour and texture to a room.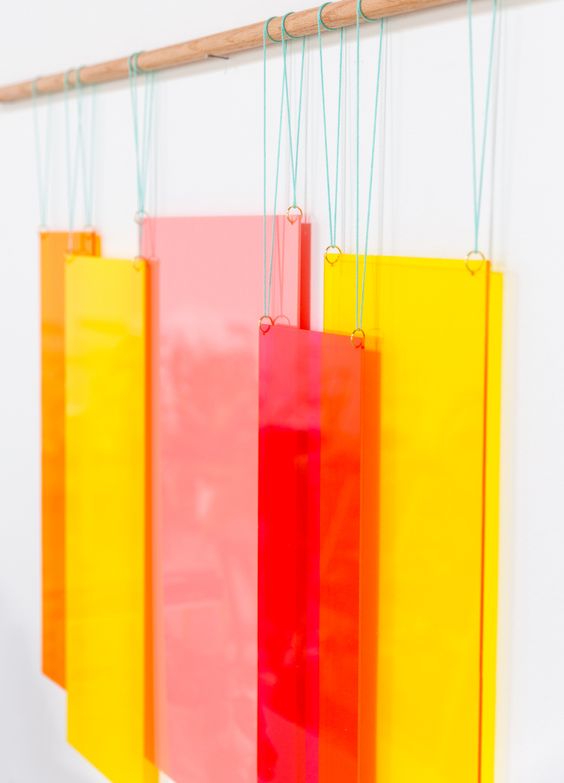 A colourful wall-hanging using an old curtain pole and cut Perspex pieces. Image courtesy of Pinterest.
Our Laser Cutting Service
Simply Plastics are one of the UK's leading online suppliers of Acrylic/Perspex sheets, stocking over 125 colours and variants. We offer a bespoke CNC Laser and Router cutting service allowing us to supply extremely intricately cut components in both small and large runs. If you need our help or advice on any of your upcoming Perspex projects please get in touch.