Instant cut to size prices
Free delivery on all orders over £150
30+ Years experience in the plastics industry
How is Perspex used in retail design?
Published on: 15/06/2022
Perspex is the plastic fantastic of the retail design world. The brand name of one of the most versatile, functional and high-performing acrylic plastics on the market, it is synonymous with quality, and regarded as the highest grade acrylic available. Thanks to its chemical properties, competitive price point, and huge availability of colours and finishes, in recent years Perspex has firmly established itself as the go-to material of choice within retail design and display concepts.
A solid plastic made of polymethyl methacrylate (PMMA), Perspex can be used in a wide variety of different ways, throughout many different industries, including construction, lighting, signage and interior design. Within retail, it is ideally suited to a huge range of diverse applications including:
Branding
Merchandising and shelving
Shop fittings and fixtures
Store architecture
Retail signage
Light fittings
Glazing
The key qualities of Perspex
There are many reasons why Perspex works so well within multiple areas of retail design. First and foremost, it's strong, durable and shock-resistant. Despite these qualities, it's also lightweight, making it easy to transport, handle and install. It can also be cut to shape/size, laser cut, engraved and formed making it the ideal material for retail settings that require bespoke designs.
Perspex isn't just suitable for indoor retail design concepts. Thanks to its ability to withstand the effects of harsh weather and UV rays, it can be used for exterior projects too. Perspex is available in a vast array of finishes and colours, which won't fade (whether sited inside or out). Importantly, as sustainable behaviour continues to move up the agenda for most major retail players, it's recyclable too.
Why Perspex outshines glass
For many of the reasons already listed, Perspex is an excellent alternative to glass. However, in addition to being stronger, lighter and more resilient than standard glass, it also offers better optical clarity than most forms of glass. This has obvious advantages for merchandising units, especially transparent display cases, where visibility is key.
Perspex can even be used as a mirror. The silver and coloured acrylic mirror sheets we stock are half the weight of a traditional plate glass mirror, but incorporate around ten times the impact strength. This is particularly beneficial for busy retail environments, where health and safety are key concerns. Acrylic mirrors are also easy to clean and maintain, and are much cheaper to purchase and install compared with their standard glass counterparts.
Perspex the protector
Perspex protective shields have become a familiar sight in many commercial environments and public workspaces. This is a development that's unlikely to completely disappear, even in the post-COVID era. Also known as "sneeze screens", Perspex acrylic shields can play an important role in reducing the transmission of general airborne germs commonly spread by sneezing, coughing, or even just breathing. They are also an effective way of protecting displays of perishable goods, such as cakes and confectionery, from contamination.
Going forward, deciding how best to incorporate protective Perspex shields into retail design is likely to be a primary part of any planning process, rather than a reactive consideration. This sort of proactive approach provides a better opportunity to blend aesthetics with functionality, and allow protective shields to complement and even enhance a business's branding, personality and visual identity. We offer a range of Perspex screens – both hanging and free-standing - that can be adapted to any environment that requires direct interaction between staff and customers. In addition to shops, these could include restaurants, spas, hairdressers, healthcare settings and beauty salons.
Driving footfall with design
It's well documented that high street footfall was in decline even before the pandemic hit, largely as a result of the inexorable rise of e-commerce. The explosion of online sales in recent years has created a variety of new challenges for traditional bricks-and-mortar retailers. But it's not all bad news. There are still plenty of customers that are looking for products – and more pertinently experiences – that they can't get through online shopping. Retail environments that attract, engage and provide experiential, interactive encounters that go beyond the mere transactional, are far more likely to thrive.
Intelligent and imaginative retail design drives sales by enhancing storytelling, brand heritage and product education. Strong visual components play an important role in all of this. Eye-catching but customised Perspex story-telling graphics are an excellent way to make the in-store experience more meaningful and authentic. Think bright primary colours for a confectionery store, for example. An earthier palette, enhanced perhaps with nature/landscape graphics, would work well for an outdoor retailer.
Interior shop-fits can make or break a sale, but getting customers through the front door is still the first step, so retailers need to make their shop front and fascia stand out as much as possible. Window displays also need to be impactful and enticing, in order to draw people inside.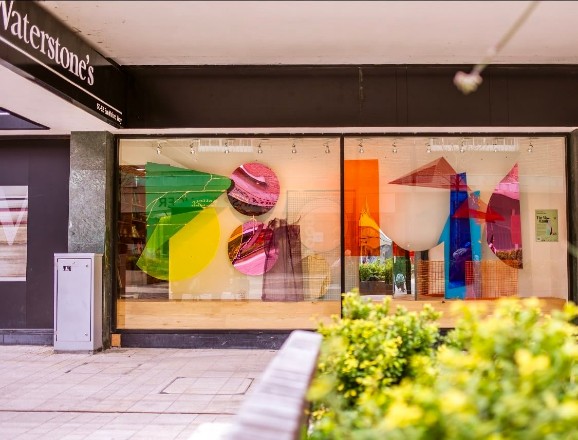 The versatility of Perspex means that it's ideally suited to all sorts of eye-catching signage, fascia and branding applications. Outdoor signs in particular need to be attractive but durable. Clear cast fluorescent acrylic is easy to work with, yet strong and hardwearing, which means it performs well in exterior locations, with no significant changes in appearance expected for over 10 years. It features a vivid, fluorescent edge that gives the impression of glowing under ambient light without any additional light source of its own. In addition to signage, this material is ideally suited to manufacturing retail furniture, display cases, and point of sale settings.
The quest for conversion
Enticing potential customers in-store is, of course, only half the battle. Unless they find what they are looking for once inside, they won't buy – and it's likely they won't come back either. So it's vital that the retail design process prioritises merchandising and displays that maximise visual appeal, and ultimately stimulate sales.
Our clear acrylic Perspex is available as both cast and extruded sheets, in a range of different finishes including crystal clear gloss, matte frost, anti-glare and prismatic. Both types can be customised with laser cutting and engraving. Clear acrylic works especially well in complementing a wide range of lighted applications. A mix of both clear and coloured Perspex merchandising adds interest and impact in-store, especially if enhanced with bold graphics and interesting shapes.
Sometimes, however, less is more. One of the key retail design trends to emerge in recent years is minimalistic merchandising, especially within high-end retail environments. These spacious shop-fits are a deliberate departure from the 'pile it high and sell it cheap' approach. Perspex is the perfect material for creating understated, uncluttered merchandising displays, that focus on quality not quantity of inventory, and facilitate a seamless flow in-store. Such units can be customised with curves and angles to add interest, without detracting from the products showcased within.
Making things pop
Keeping things fresh is important for repeat customers. The most successful retail design installations play an instrumental role in ensuring customers keep coming back and spending. Displaying things differently is a fast, effective way to make existing products seem new and alluring. Happily, the qualities of Perspex can easily be harnessed to answer the needs of flexible store concepts and new methods of merchandising.
Limited-life pop-up concepts are yet another retail innovation where Perspex can really make a difference. Pop-ups are a fantastic way to amplify brand awareness, especially via social media opportunities. Brightly coloured Perspex colour palettes, striking photographable Perspex backdrops and props, and eye-catching Perspex merchandising can all help to create a shopping experience that is more than merely transactional, enhancing customer connections and creating memories.
We stock and supply one of the widest ranges of Perspex colours in the UK, from Fluorescent to Sweet Pastels to the Naturals collection, all of which can be cut to size.