Instant cut to size prices
Free delivery on all orders over £150
30+ Years experience in the plastics industry
The uses of Perspex and Polycarbonate in the lighting industry
Published on: 21/09/2022

While Perspex is well known as the plastic fantastic of the retail world, there are many reasons why it's also regarded as the perfect material for lighting, too. The brand name of a premium acrylic plastic, Perspex is made of PMMA (polymethyl methacrylate). It has many advantages over standard glass, and is used within a wide range of lighting applications, in all sorts of different settings.
What are the advantages of Perspex for lighting?
The inherent qualities of Perspex deliver multiple benefits for lighting installations. First and foremost, it offers excellent optical clarity, transparency and light transmission. Importantly, Perspex also offers superior impact resistance. Strong and durable – unlike glass – it is far more likely to flex than break or shatter. However, despite this strength, Perspex is lightweight and less dense than glass, which makes it easier and comparatively more cost-effective to transport and install. Obviously, this durability and damage-resistance translates into exceptional longevity, too.
In aesthetic terms, Perspex is available in a wide range of different colours and finishes. It can tolerate a high working temperature, so it's easy to heat-form, manipulate and machine.
Perspex acrylic is 100% recyclable. Moreover, it contains recycled monomer waste that is collected during production and returned to the manufacturing line. This means that virtually zero acrylic waste from Perspex sheet production sites goes into landfill.
Where is Perspex lighting used?
Perspex lighting is used practically everywhere! It's widely present throughout the retail industry, in commercial properties, offices, the public sector and in private homes. Perspex is suitable for many different types of lighting applications including lightboxes, signage, spotlights, LEDs, fluorescents, linear fixtures, troffer fixtures, downlighting, up lighting, and indeed most forms of industrial and commercial lighting fixtures. Thanks to its UV-resistant properties, it is suitable for both exterior and interior settings.

Which type of Perspex lighting is best?
The type of Perspex you choose for your lighting will obviously depend on its desired features and functionality. As a Perspex-approved online stockist and fabricator, we offer a comprehensive Perspex portfolio, in addition to a wide variety of fabrication and machining services. These materials include:
Perspex Opal Cast Acrylic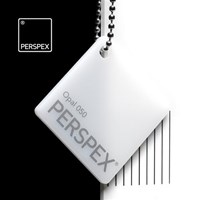 White in tone, with good light transmission properties our Perspex Opal Cast Acrylic diffracts and diffuses light evenly. It's a great choice for illuminated lighting applications, such as lightbox signage systems. Other popular applications include exterior signage, retail displays, and point of sale installations. Perspex Opal Cast Acrylic incorporates a high-gloss finish that is both attractive and practical to keep clean. Opal Cast Acrylic is available in two different colour tones and thicknesses:
Perspex Opal 030 – 3mm thickness: 67% light transmission, 5mm thickness: 50% light transmission
Perspex Opal 050 – 3mm thickness: 36% light transmission, 5mm thickness: 24% light transmission
LED Light Diffusing Opal Acrylic Sheet
Designed and manufactured specifically for optimum diffusion of LED lighting, this type of Perspex ensures perfectly even lighting. The superior diffusion it delivers also helps to eliminate unwanted hotspots. Our LED Light Diffusing Opal Acrylic Sheet is therefore ideal for lightbox signage systems, illuminated signs and graphic displays, lighting lenses and ceiling lighting tiles.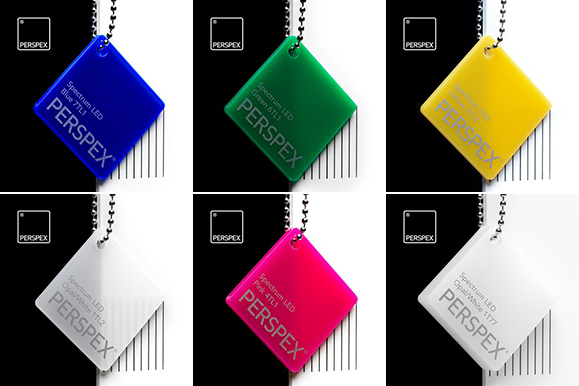 Importantly, LED lighting generally is more economical to run – and more environmentally-friendly – than traditional fluorescent bulb lighting sources. More specifically, in tests our LED Light Diffusing Opal Acrylic Sheet has demonstrated superior performance, not only in terms of light diffusion and transmission, but also in terms of running costs. As fewer LEDs are required, this translates into less energy use, at lower voltage.
| | | |
| --- | --- | --- |
| Material | Light Transmission | Thicknesses available |
| Opal 1TL1 | 36% | 3mm, 5mm |
| Opal 1TL2 | 48% | 3mm, 5mm |
| Opal 1T77 | 35% | 10mm, 15mm, 20mm, 30mm |
| Yellow 2TL2 | 22% | 3mm |
| Orange 3TL1 | 13% | 3mm |
| Pink 4TL1 | 8% | 3mm |
| Red 4TL3 | 6% | 3mm |
| Green 6TL1 | 15% | 3mm |
| Blue 7TL1 | 6% | 3mm |
Perspex Spectrum LED Block Acrylic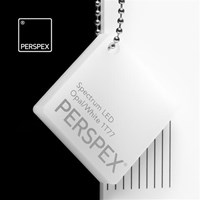 A popular new addition to our portfolio is the Perspex Spectrum LED Block Acrylic, in Opal 1T77. This incorporates a 35% light transmission, and is available in four different thicknesses: 10mm, 15mm, 20mm and 30mm. This material is specially designed to be backlit by placing LEDs in a channel machined into the reverse.
---
Frosted Clear Cast Acrylic Sheet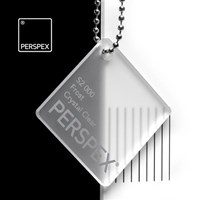 Frosted clear acrylic incorporates an attractive matte 'sandblasted' finish on both sides, which makes it ideal for a wide range of creative lighting applications, both interior and exterior. Hardwearing, weather-resistant and anti-reflective, it's often used for signage, retail displays and glazing. Our frosted clear cast acrylic sheet is available in two thicknesses: 3mm and 5mm. Slightly transparent, it offers 85% light transmission.
---
Polar White Frosted Cast Acrylic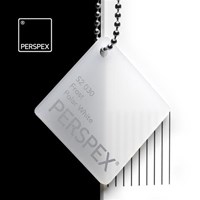 While our Coloured Frosted Cast Acrylic Sheet is available in a wide range of stunning shades to suit all lighting design requirements, our Polar White option is by far the most popular. In addition to interior signage, this particular Perspex material is most often used for retail displays, furniture and interior design. Like its frosted clear acrylic counterpart, it is also available in 3mm and 5mm thicknesses. Its light transmission ranges from 17%-85%, depending on the colour.
---
Opal Polycarbonate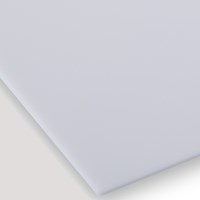 Offering a versatile white colour finish, our Opal Polycarbonate Sheet combines superior strength with excellent light transmission and fire resistance. Exceptionally hard-wearing, it's a popular choice for lighting and signage applications where safety and security is paramount. Thanks to its UK class 1 fire rating, polycarbonate is often used in public buildings. Our Opal Polycarbonate Sheet is available in 2mm, 3mm and 5mm thicknesses. The corresponding light transmission is 2mm - 39%, 3mm - 28% (50% available on request), and 5mm - 14% (49% available on request). 
---
Prismatic Polycarbonate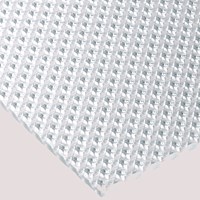 Used extensively in locations such as offices and factories, our Prismatic Polycarbonate Sheet features a textured pattern on one side. This lightweight, translucent material is optimised for light transmission and diffusion, which makes it suitable for a wide range of different lighting applications. Like all polycarbonate, it is super strong and impact-resistant.
Services we offer the lighting industry
We are a trusted partner of the lighting industry, both in terms of supplying materials and cutting to shape/size, forming and bending amongst other fabrication services.
With over 30 years' experience working with plastics, we have a proven ability to deliver exactly what our lighting customers require – on time and on budget. We pride ourselves on our versatility and flexibility, and are happy to accommodate long runs, short runs, one-offs and prototypes.