Instant cut to size prices
Free delivery on all orders over £150
30+ Years experience in the plastics industry
Plastics in Retail Store Design – 3 Big Shop Fit-Out Trends for 2023
Published on: 10/02/2023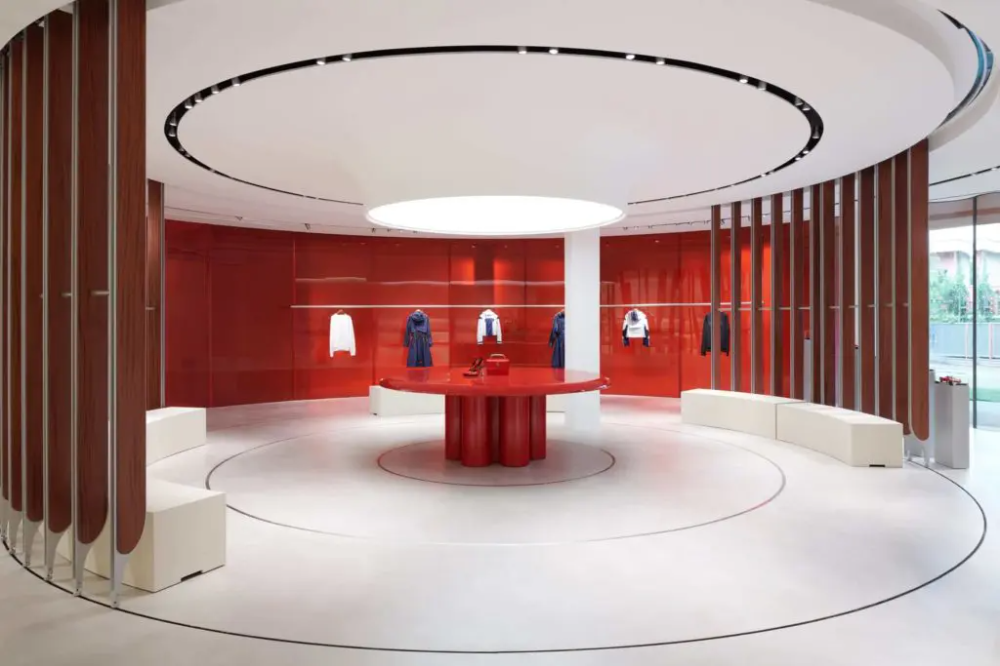 Image courtesy of Paola Pansini/interiordesign.net
In a world where there's so much consumer choice, retailers are always on the lookout for new and exciting ways of making the items they sell in their stores more eye-catching. Store design in general and in-store displays in particular usually need to strike a balance between visual impact and style, as well as functionality. And it helps the bottom line if these displays are also cost-effective to produce and easy to reconfigure.
One of the best materials to work with to create stunning in-store displays is Perspex, because it ticks all the boxes. The stylish interior of the first Ferrari retail experience store in Maranello, Italy by Sybarite (main pic) is a beautifully executed example of an in-store display which makes extensive use of acrylics, combined with mahogany wood and brushed aluminium.
What to Expect in 2023
Forbes Magazine has recently published a feature on what it expects the biggest retail trends for 2023 to be. Some of these hone in on retail display and in this blog we've picked out three of them.
Perspex/acrylic is a material that shop fitters and interior designers alike can have great fun with, to design and create innovative merchandising displays. Using these plastics creatively will enable store owners to meet consumers changing expectations and at the same time capitalise on the fit-out trends identified by Forbes.
Trend #1 - the Return of Bricks and Mortar
The Covid-19 pandemic has meant that for the best part of three years retail stores nearly everywhere have seen a slump in footfall. Although some supply chain challenges remain and the cost-of-living crisis is making life harder for consumers, thankfully the worst of the pandemic looks to be behind us. In-store shopping is certainly on the rise again. There's a much more positive outlook for retail and this is making for renewed focus on the whole customer shopping journey.
The end of the pandemic has prompted many retail store owners to think about modernising or revamping the interiors of their stores and updating their retail displays. There are lots of ways in which clear or coloured Perspex can play a key role here – take a look at the stylish and eye-catching display unit below at this stationery and paper goods design chain in London.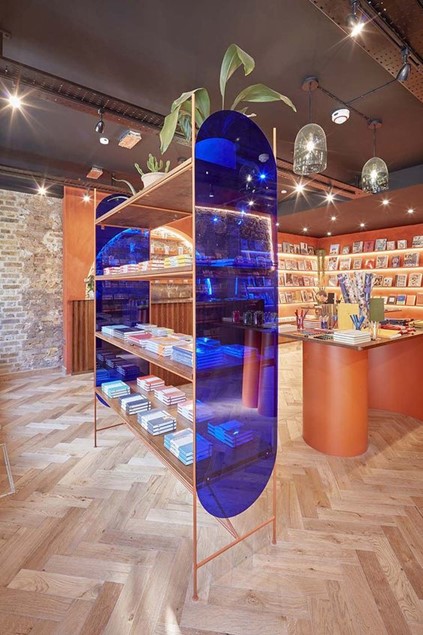 Eye-catching display at Papersmiths Chelsea – image courtesy we-heart.com
Trend #2 – the Emergence of Hybrid Shopping
Retailers everywhere are adjusting to this new normal, and according to Forbes, "a seamless experience and hybrid shopping are shaping the future of retail." Hybrid shopping is where retailers combine elements of digital commerce and in-person (physical) shopping. The digital element happens online, whereas the physical part might happen in-store, at an event, or sometimes over the phone.
The crossover became much more common during the Covid pandemic, and was a development which actually helped to save a lot of businesses. An example of a hybrid shopping experience is the so-called BOPIS service (Buy Online Pickup In-Store).
Retailers offering hybrid shopping often need to re-configure their stores in order to cope with the changed pattern of in-store customer movements – for example by creating new collection points (and in-store displays) for customers to pick up the items they've ordered online. Some stores in busy urban locations are offering kerb side pick-up stations. If your customers have to wait in store for a few minutes while collecting their items, why not offer them a designer acrylic "bus bench" to sit on?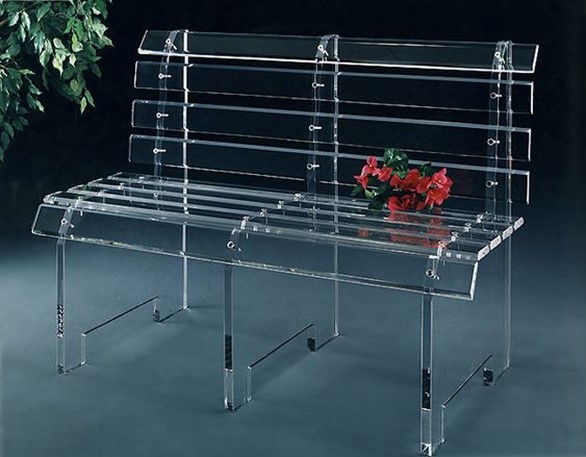 A stunning acrylic bus bench – image courtesy munizplastics.com
Trend #3 – Fundamental Changes in Store Design/More Mixed-Use Spaces
Another retail trend picked up by Forbes is the big changes which are underway in store design and use of space. Major retailers have been experimenting by adjusting the sizes and formats of their stores, as well as moving towards more mixed-use spaces. Mixed-use spaces may combine shopping, living and dining zones, as well as "pop-ups" and community spaces which serve a specific local market.

Forbes also note the emergence of retail spaces which include experiential zones with innovative merchandising and design elements. Some of these developments are driven by, and are a response to, emerging social media trends, with retail spaces sitting alongside spaces for artists, social innovators and entrepreneurs.
In the stunning retail store façade pictured below, 3,000 coffee capsules with programmable LED lights have been used, along with acrylics, DuPont Corian and precast quartz terrazzo.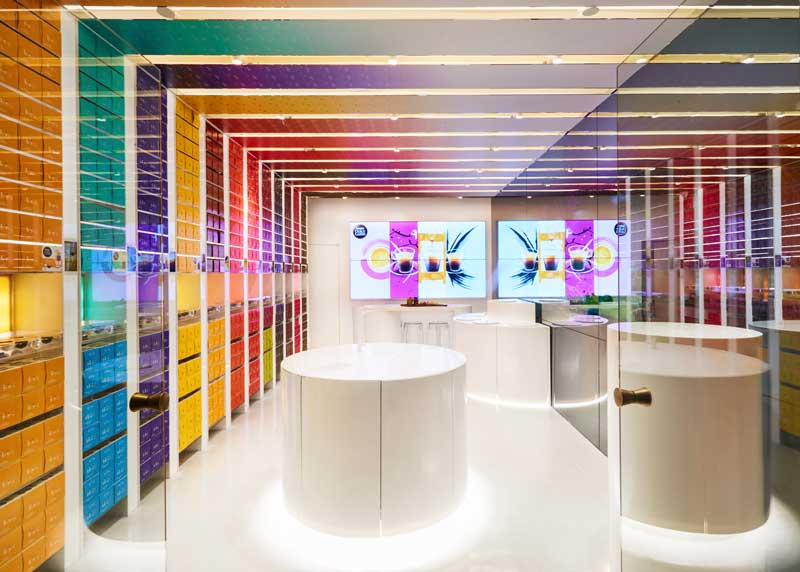 Image courtesy of contemporist.com
Why Store Designers Choose Perspex
Store designers and fitters love Perspex because it's stylish, relatively inexpensive, easy to cut, works well in combination with other materials and looks great with carefully-chosen LED lighting solutions. With retail design continually evolving in response to changing customer expectations, Perspex is the perfect material to use for creating stylish and innovative in-store looks.
With the recent launch of PERSPEX®re, a sustainable 100% recycled cast acrylic product, things have just got even better. Now there's a product in the market which not only meets the needs of store-fitters and designers, but is also great for the environment.
Our Laser Cutting Service
Simply Plastics are one of the UK's leading online suppliers of Acrylic/Perspex sheets, stocking over 125 colours and variants. We offer a bespoke CNC Laser and Router cutting service allowing us to supply extremely intricately cut components in both small and large runs. If you need our help or advice on any of your upcoming Perspex projects please get in touch.
Related content